Heat Treating Services in Plymouth, MI
---
Our Experienced Team Offers Quality Heat Treatment Options
The Woodworth family owns several heat treating companies with a combined history of providing exceptional services for almost 50 years. RMT Woodworth was established in 1994 in Southfield, Michigan as a premium production heat treating company. We offer only atmosphere-controlled metal heat treating services. Our continuous batch furnaces set us apart from other production heat treating companies because they allow us more flexibility than traditional belt furnaces. These "state of the art" furnaces enable us to competitively service different industries throughout the United States and Canada.
We strive continuously for quality improvements by investing in new technologies and most importantly, by listening to our customers and abiding by their quality requirements. Our atmosphere-controlled furnaces are located in an 80,000 square foot facility centrally located in Plymouth, Michigan.
"The key to our continued growth is our ability to exceed our customers' expectations and do so competitively."
---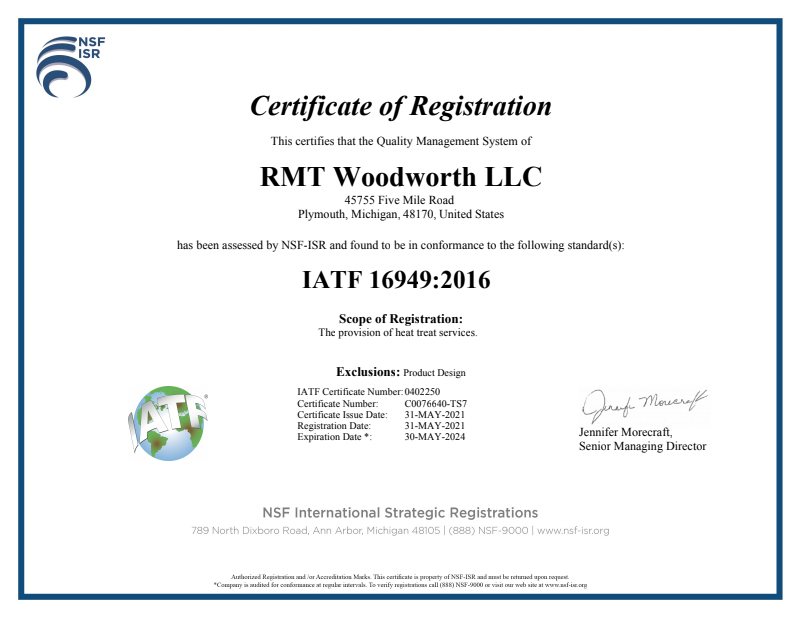 IATF 16949:2016
RMT Woodworth is certified and assessed by NSF-ISR and found to be in conformance to the following standard(s) IATF 16949:2016
IATF 16949:2016 is the International Standard for Automotive Quality Management Systems. ... IATF 16949 emphasizes the development of a process oriented quality management system that provides for continual improvement, defect prevention and reduction of variation and waste in the supply chain.
Click the image to the right to download the IATF Certificate.
---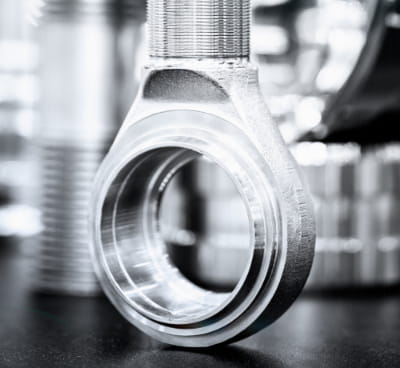 RMT's Comprehensive Daily Throughput and Capabilities for Heat Treatment Solutions
We perform all of our processes in atmosphere-controlled, continuous batch surface roller furnaces. These furnaces are capable of handling 7,200 pounds per hour. Our overall facility throughput is approximately 450,000 pounds per day of product. Parts can be placed in baskets or on fixtures which will move through the furnace on trays that are 60" x 60" square and an opening height of 30". We can provide lot control by utilizing tray tracking. Load building additionally allows for maximum throughput with the ability to control and trace lots. All our furnaces have hot oil capability and variable speed quench, which helps control and minimize distortion. We also have various loading and unloading systems, which improves our process efficiencies.
Some of our clients include:
Linamar
Magna Powertrain
Dana
Borg Warner
Ford
ZF
AAM
Amsted Rail
Meritor
Gardner Denver
---
Give RMT Woodworth Heat Treating a call today at (734) 254-0566 to schedule a visit to our facility or to request a quote.